100th Episode of 'How I Met Your Mother' Leaves Surprises And More Mother Hints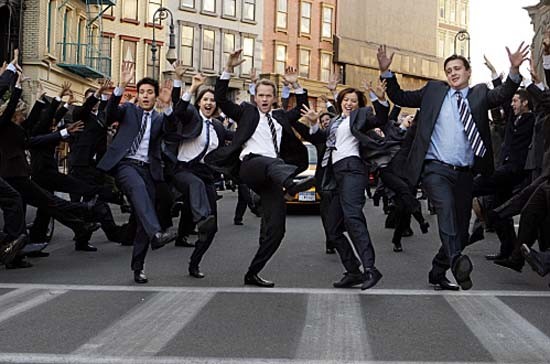 On Monday, CBS will air
How I Met Your Mother's
100th episode (entitled "Girls Vs. Suits!") as their first new episode in 2010, back from the holiday hiatus. However, a select amount of lucky fans got to screen the episode early on January 7 at the Paley Center for Media in Beverly Hills.
Featuring an intimate question and answer panel with the stars and creators of the show, the event was full of festive fun for the musical episode that was a dream come true for at least one castmember:
Neil Patrick Harris
. Though most of the cast has had experience in musicals before (
Alyson Hannigan
was in the Buffy "Once More With Feeling" episode; co-star
Jason Segel
sung with puppets in
Forgetting Sarah Marshall
), Harris is the one with the most distinguished credits under his belt, after having appeared in the Tony award winning RENT on Broadway. And until this episode, the only time he really got to perform musically on the show was bearded and pony-tailed, standing behind an old Casio keyboard. Hardly showcasing his chops!!
Moderated by Stuart Levine, the cast and creative team weighed in on everything from their favorite past moments in the previous ninety-nine episodes to what it's like shooting a sitcom without a live studio audience. Jason Segel was, as always, the most animated on the panel, providing ample photo ops of funny faces and belly laughter. However, he was also the most sentimental of the bunch, discussing how proud he is that the cast kind of "grew up" together.
"You know, in the past year Josh [Radnor, Ted] directed a movie, Alyson and Cobie had babies, Neil got to host the Emmys, and I've been doing my thing, and it's really great. It's like six years ago we were these kids all starting out together, and now we're all getting to live the dream." Segel's "thing" is writing the new Muppets movie, which he admitted he is approaching "completely without a sense of irony" because even today approaching thirty years old, he still loves the show as much as he did when he was a child.
Harris spent part of the evening filming pieces of the pressline and panel, presumably for Twitter, which he has taken to like a pro, and he and Cobie Smulders also shared a few cutesy moments mock-contemplating the return of Barbin or Robney or whatever equally cutesy nickname fans came up with for the duo.
Director Pamela Fryman was even caught admitting that "she think she knew what she was doing" during the Very Special Episode's big musical finish. Creators Craig Thomas and Carter Bays called her out, saying "At the end, she was like Cecil Demille with sixty-five dancers as extras and this big crane shot, and she turned to us and was like "I hope I didn't completely [screw] that up!"
The cast also cracked themselves up by keeping an inside joke of "cat puns" going throughout the second half of the panel. Apparently it was something born of a particularly punchy evening tucked into the back corner (non-usual) booth of the bar set, and they had a ball keeping it going, even bringing some of the fans in on it when they posed their questions from the audience.
Josh Radnor
was the most pensive and contemplative as always, and when asked about what he loved most about Ted, he said he loved what a good guy Ted was. "I met this girl recently," he said, "who was a fan of the show and told me she had signed up on match.com, and on her profile for the site she wrote that she wanted to find her Ted Mosby." He smiled, and that statement pretty much sums up the heart of the show.
The question on everyone's minds of when Ted will finally met The Mother still didn't get answered (not surprisingly), but through the episode some more hints were given as to who she is even if not necessarily when Ted (and us by extension) will finally see her face. And as for the actress who will play the coveted role? Well, she reportedly still hasn't been cast yet either, but Segel had one very specific suggestion: "Hilary Clinton. How great would be it be to see the mother, and it's Hilary Clinton!?"
Story by
Danielle Turchiano
Starpulse contributing writer