10 Things You May Not Know About Superman 'The Man Of Steel'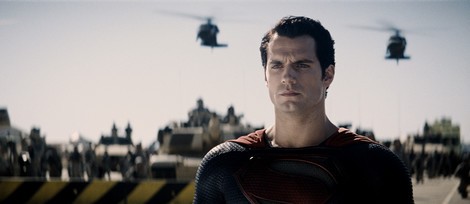 5. SUPERMAN DOES NOT KILL

Technically, neither does Batman, but you wouldn't know that from all the guns and rocket launchers that are mounted on all his vehicles in every Batman movie (good and bad alike). But Superman's moral code is so exacting that he refuses to take a life, no matter how vile. Additionally, he knows that the fragile sense of trust he's worked to earn from his adopted home would be shattered if humans thought even for a second that he would use his vast powers to exact the ultimate vigilante justice. We shall see if Man of Steel's "darker" Superman adheres to this character-defining tenet or not. Let's hope so.

6. MANY OF THE ICONIC PARTS OF THE LEGEND DO NOT COME FROM THE COMICS
Superman was such an instant smash when introduced seventy-five years ago in Action Comics #1 that he very quickly made the leap to other media: comic strips, radio, animated cartoons, and even a novel. And many indelible parts of the legend came from some of these non-comic book adaptations.

The radio show introduced the Daily Planet's Perry White and Jimmy Olsen, as well as the deadly element known as kryptonite. The newspaper itself got its name in the comic strip (replacing the comic book's' "Daily Star" in 1940). George Lowther's 1942 novel, The Adventures of Superman renamed our hero's birth parents as Jor-El and Lara (supplanting the original Jor-L and Lora). And it was in the Fleischer Studios animated cartoons that Superman first changed clothes in a phone booth, and—more importantly—evolved from making great leaps to actually being able to fly, simply because a jumping superhero looked kinda silly in the first few episodes (The cry of, "Up, up, and away!" also came from radio, a necessity when you could only describe action as opposed to showing it).

7. THERE WAS ONCE A GOOD REASON NOBODY REALIZED CLARK AND SUPERMAN WERE ONE AND THE SAME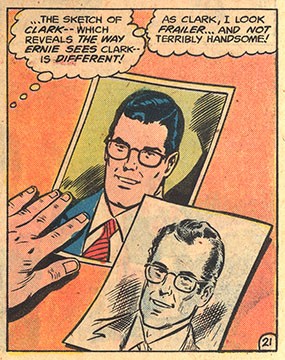 Since Superman and his alter ego Clark Kent were introduced in 1938, the hardest part of the story to buy wasn't his alien heritage or his many amazing super powers. It was that nobody would recognize Clark as Superman just because he put on a pair of glasses (and changed his voice, hair and posture).

In 1978, writer Martin Pasko (using an idea by Al Schroeder III) solved the mystery in Superman #330, "The Master Mesmerizer of Metropolis!" It turns out that among the hero's many powers is a form of super-hypnosis, which, magnified through the lenses of heat-vision-resistant Kryptonian-plexiglass eyeglasses, causes people to see Clark Kent as he wants them to: A frail, slightly balding, extremely mild mannered reporter, quite the opposite of the beefy Man of Steel. The effect is so strong that it even works when people look at photos of Clark!
Yeah, there are some holes in the theory, and, like so many stories, this idea was quickly abandoned, and to this day, the only reason nobody recognizes Clark as Superman is because of a great power we all possess: Suspension of disbelief.

8. THERE HAS NEVER BEEN A NOVELIZATION OR COMIC BOOK ADAPTATION OF THE FIRST TWO SUPERMAN MOVIES

In this age of corporate synergy and ubiquitous merchandising tie-ins, it's practically unfathomable to imagine that not one Superman movie was adapted to either comic book or novel form prior to 1983's Superman III (in case you were dying to read the prose version of that tale).

True, neither the two 1940s serials starring Kirk Alyn, nor George Reeves' theatrical film, Superman and the Mole Men begged for print translations. But why was there no comic / book version of 1978's Superman: the Movie or its first sequel in 1981? Blame Mario Puzo. The Godfather author wrote the first draft of the screenplay to Superman (which included much of Superman II), and had a specific clause in his contract that no adaptation of the story could be published without his involvement. Despite numerous rewrites by subsequent script doctors, Puzo's name remains the primary screenwriter, and as he had no interest in working on either a novel or a funnybook version of his radically altered original story, to this day, the only way to experience those first two films is to watch 'em… which really is not a bad thing.

9. A REAL LIFE GUEST STAR APPEARED IN AN ISSUE OF ACTION COMICS ONE WEEK AFTER HIS MURDER SHOOK THE NATION.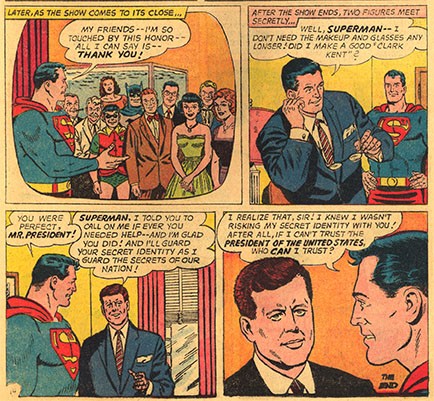 In the olden days, Superman had to jump through an awful lot of hoops to protect his secret identity, often enlisting his pal Batman to masquerade as one of his identities whenever Superman and Clark Kent were required to be in the same place at the same time (he even had an army of robots in part for this reason, but also because they did a great job cleaning the Fortress of Solitude).

But in Action Comics #309, Batman has to appear at the same live television spectacular honoring Superman as all of the Man of Steel's friends… including Clark! And so, Superman calls in a favor from another trusted confidant… President John F. Kennedy, who slaps on some makeup, wig and glasses to pass himself off as the reporter (foiling Lois' 548th attempt at proving Superman and Clark are one and the same).
The sad irony of this story is that the issue (cover dated Feb. 1964) hit the newsstands one week after Kennedy's assassination (too late for DC Comics to pull the comic book from distribution), adding a heavy poignancy to a rather silly tale.

10. SUPERMAN IS MUCH COOLER THAN YOU THINK

Despite being a cultural icon for 75 years, the character that launched the entire superhero genre (perfectly synthesizing elements that existed in numerous heroes before) and solidified the nascent medium of comic books as a viable form of entertainment, Superman doesn't get his due respect. People tend to dismiss him as being dull or too goody-goody. Common wisdom says the dark and brooding Batman or raging bad boys like Wolverine are much cooler heroes than the morally righteous Midwest farm boy in the primary-colored costume.

But here's what most people don't get about Superman: When he's done right, he's actually the coolest hero there is. It's not that he has this long list of incredible super powers, it's that how he treats them. First of all, he's Steve McQueen-nonchalant about this "most powerful being on the planet thing." It's no big deal. Remember, he didn't name himself Superman, and he doesn't even think that he's better than us. All he wants to do is help, which is the other cool thing about the guy. There's no angsty motivation for revenge or simmering need to prove anything. He uses his powers for good because, Duh, that's what you do.

How many of us could honestly say that, given powers and abilities far beyond those of mortal men, we wouldn't become insufferably arrogant and use those abilities for our own benefit over that of others? Sadly, not many, which is what makes Superman so eternally cool… and also necessary.