10 Reasons Why Zooey Deschanel Is Admirable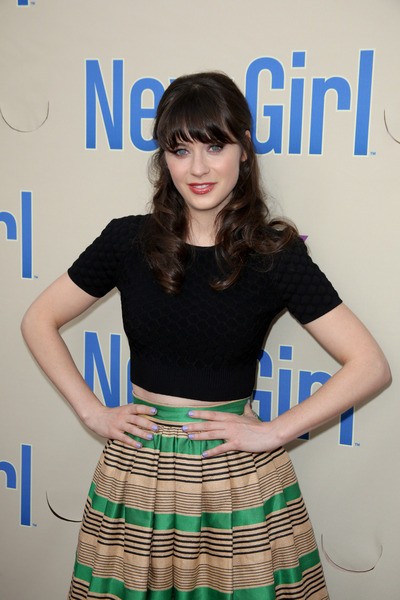 Here's a simple task for you. Go out on the street and ask a random person what they like most about Zooey Deschanel? Their answer, if they know of whom you are asking about, will be something positive.
Zooey is your girl next door and, in my opinion, America's sweetheart. Weird thing is, everyone sees her that way.  Her demeanor is inviting and her quirky personality can strike up one heck of a conversation. But you see, there are quite a few actors in Hollywood that portray themselves as Zooey comes off. Maybe that's it; they portray themselves whilst Zooey just is...Zooey.
I have taken some time to ponder on the thought of Zooey Deschanel and why she is everyone's love at first sight. Being a fan of hers since her "500 Days Of Summer" days, coming up with a list of 10 admirable qualities was a piece of cake for me.
So, here it is. My explanation as to what makes Zooey Deschanel so admirable.
1. Zooey makes beings a dork…cute. She represents all the dorks out there and gives them the boost of confidence they need. Men even say that Zooey's dorkiness makes her sexy.  Someone hand me a pair of big glasses and knee-high socks.
2. On screen and off, Zooey's sense of style is very old-fashioned and retro and that sets her apart from the rest of Hollywood. It gives us something refreshing to view.
3. Zooey's quirky personality makes you want her as your best friend. Think about it. There wouldn't be a blah moment with her in your presence.  She'd be your go-to person for all things fun.
4. There are quite a few actors in Hollywood that claim to be good role models, but Zooey has made the effort to always be one. She dresses appropriate, she is constantly striving to be herself in a superficial world and she chooses roles that make her relatable.
5. Number 5 ties in with number 4. Because she is a good role model, Moms love her. They want their daughters to be obsessed with an actor who really isn't an (ahem, Miley Cyrus) actor both on and off screen. Meaning, Zooey has never been caught acting up when she's not on the job.
6. Two years ago Zooey had a party at the American Girl store.  How adorable is that? This proves that she has a young heart.
7. Zooey is very grounded.  She comes from a family of successful entertainment professionals, yet she just gave up her mom's old Volvo a few years ago.
8. If you've visited Hellogiggles.com, that in itself makes Zooey admirable right? The site is ran by comedic females who write entertainment and lifestyle pieces. What I love about it is that it's an environment for females to find some laughter or hobbies to take up like DIY projects. For a busy woman, Zooey took some time out to think about us, the women.
9. After tracking them down, Zooey didn't attack, but expressed her feelings towards the bullies of her past. She doesn't use her celebrity status to belittle others. She simply just acknowledges the issue and moves on. She shows that one should try to be the bigger person.
10. Zooey doesn't care about body issues and that's great! In this modern day world, people constantly think about their weight or how they look for the wrong reasons.  Zooey takes a stance on the issue and expresses that you do not have to be thin to be popular.
Because you most likely love Zooey even more now, don't make plans for Tuesday night. Why? Stay in and switch on the season premiere of "New Girl."