10 Films About Serial Killers In Honor Of 'The Factory' DVD Release Feb. 19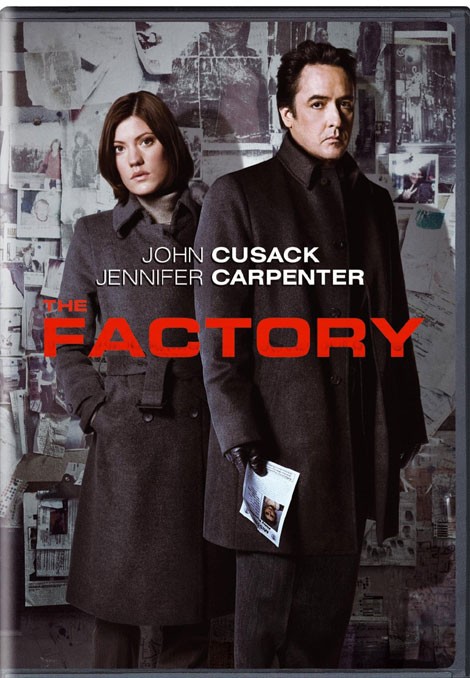 His daughter locked away in a subterranean dungeon by a dangerous zealot, Detective Mike Fletcher (John Cusack) races to find her in that crucial 48 hours after she was abducted in "The Factory," a relentlessly tense thriller from director Morgan O'Neill. Jennifer Carpenter and Mae Whitman co-star.
The film will be available on DVD Feb. 19. Check out some of our other favorite films involving serial killers:
Silence of the Lambs
Jodie Foster stars as Clarice Starling, a top student at the FBI's training academy whose shrewd analyses of serial killers lands her a special assignment: the FBI is investigating a vicious murderer nicknamed Buffalo Bill, who kills young women and then removes the skin from their bodies. Jack Crawford (Scott Glenn) wants Clarice to interview Dr. Hannibal Lecter (Anthony Hopkins), a brilliant psychiatrist who is also a violent psychopath, serving life behind bars for various acts of murder and cannibalism.

Psycho
Marion decides to stop for the night at the Bates Motel, where nervous but personable innkeeper Norman Bates (Anthony Perkins) cheerfully mentions that she's the first guest in weeks, before he regales her with curious stories about his mother. There's hardly a film fan alive who doesn't know what happens next, but while the shower scene is justifiably the film's most famous sequence, there are dozens of memorable bits throughout this film.

Seven
A diabolical serial killer is staging grisly murders, choosing victims representing the seven deadly sins. First, an obese man is forced to eat until his stomach ruptures to represent gluttony, then a wealthy defense lawyer is made to cut off a pound of his own flesh as penance for greed.

Texas Chainsaw Massacre
Tobe Hooper's influential cult classic continues the subgenre of horror films based on the life and "career" of Wisconsin serial killer Ed Gein, which began with Alfred Hitchcock's own influential cult classic "Psycho."

Natural Born Killers
Mickey (Woody Harrelson) and Mallory (Juliette Lewis) are a young couple united by their desire for each other and their common love of violence. Together, they embark on a record-breaking, exceptionally gory killing spree that captivates the sensation-hungry tabloid media.

American Psycho
Patrick Bateman (Christian Bale), the son of a wealthy Wall Street financier, is pursuing his own lucrative career with his father's firm. Bateman is the prototypical yuppie, obsessed with success, fashion, and style. He is also a serial killer who murders, rapes, and mutilates both strangers and acquaintances without provocation or reason.

Halloween
In Haddonfield, IL, on Halloween night 1963, six-year-old Michael Myers inexplicably slaughters his teenage sister. His psychiatrist Dr. Loomis (Donald Pleasence) can't penetrate Michael's psyche after years of institutionalization, but he knows that, when Myers escapes before Halloween in 1978, there is going to be hell to pay in Haddonfield.

Saw
Leigh Whannell plays Adam, one of two men chained up in a mysterious chamber. The other, Dr. Gordon (Cary Elwes), like Adam, has no idea how either of them got there. Neither of them are led to feel optimistic by the man lying between them dead of a self-inflicted gunshot wound. Together, Adam and Dr. Gordon attempt to piece together what has happened to them and who the sadistic madman behind their imprisonment is.

Taxi Driver
The increasingly paranoid insomniac ex-Marine Travis Bickle (Robert De Niro) Travis begins to condition (and arm) himself for his imagined destiny, a mission that mutates from assassinating a political candidate, to violently "saving" teen hooker Iris (Jodie Foster) from her pimp, Sport (Harvey Keitel). Travis' bloodbath turns him into a media hero; but has it truly calmed his mind?

Monster
Charlize Theron leaves her glamorous image behind for this gritty drama, in which she plays a disturbed prostitute who becomes a serial killer. One night, after a john attacks her, Aileen Wuornos (Theron) pulls a gun and kills the man. Although her first murder can be categorized as self-defense, Aileen's loathing for the men who pay her for sex becomes so extreme that she begins killing her customers regardless of their behavior.